First Lights
November 28, 2019 @ 5:30 pm

-

November 30, 2019 @ 9:00 pm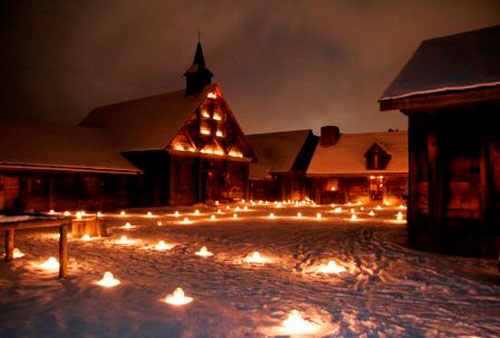 Now in its 20th year, Sainte-Marie's "First Light" is a must-see event with a great lineup of family activities and performers, all amidst the spectacular glow of over 5,000 candles.
The magic begins when visitors approach the candlelit historic site, as a beautiful amber glow illuminates the famous 17th-century mission. Visitors can stroll the candlelit paths which lead to a variety of fun family activities. The cookhouse is filled with the sights and smells of delicious baked goods and cookie samples available for tasting.
Historic blacksmithing will also be demonstrated, and a Nativity crèche will be on display in the stables near the Farmer's Dwelling. Always popular with little folks, corn husk doll making will be offered in the Sainte-Marie foyer.
"First Light" has strong ties to community groups, and many will be involved in this year's celebration, offering special "hands-on" children's crafts and historic demonstrations. An abundance of music will also fill the air, including Indigenous drumming and singing, lively Franco-Ontarian folk songs, and delightful community and school choirs performing seasonal music over the nine evenings. For some early holiday shopping, 40 exceptional artisans will be in the Sainte-Marie museum, and the themed Sainte-Marie gift shop will be open each night.